80 MFD 250 Volt Air Compressor Capacitor w/ mounting stud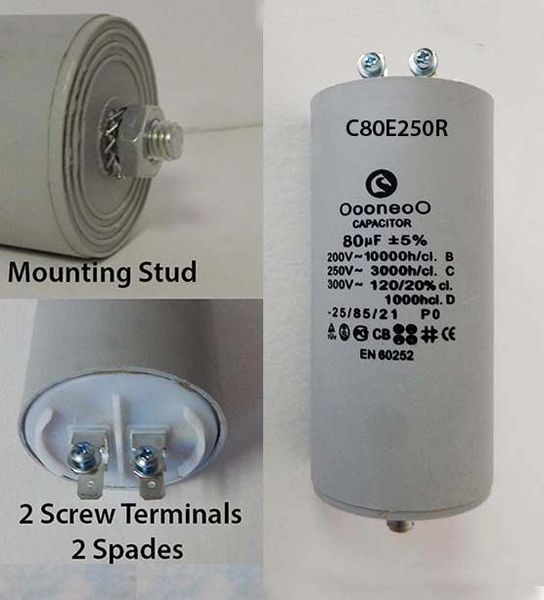 80 MFD 250 Volt Air Compressor Capacitor w/ mounting stud
Part # C80E250R
80 MFD 250 Volt Round capacitor with mounting stud

Capacitor has two screw type terminals and two spade terminals and ships with two crimp on terminals for easy installation on all types of compressors. Other end has a 1/2" long mounting stud and nut. Stud is metric M8 X1.25
Capacitor body is 4 1/4" long not counting stud and 2" in diameter. Complete length 5 1/4" including stud and terminals.
CBB60 type 80uF 250 VAC motor run capacitor
Direct replacement capacitor for Campbell Hausfeld and many other brands of compressors that use the 80 MFD 250 Volt stud mount capacitor.  Also works great in phase converters.
$5.00 Flat Rate Shipping. Ships in a USPS Flat Rate Box. Normal 2 to 3 day delivery.
Due to potential damage if improperly installed, we do not accept returns on capacitors.